Healthy treats to improve your dog's health
| Arron Lambert
Healthy treats should be a big part of your dog's diet. Premium pet foods in
Yorkshire are available to help you ensure your pet stays healthy and lives a full
and a happy life.
All dogs need a good base of nutrients from the six main food groups; water,
protein, fats, carbohydrates, minerals, and vitamins. Dogs also benefit from a diet
that is grain-free, high in protein, rich in antioxidants, omega oils, zinc, and fiber.
An array of research has gone into the development of premium pet food.
Companies such as Acana, Canagen, Eden, and Fish for Dogs develop bespoke food
from the routes of animal ancestry. Here at Premium Pet Products, we stock a
range of their premium pet food in Leeds.

Acana
This company uses only free-range animal products; from free-run birds to grass
fed animals, they develop easily digestible, high protein recipes for all dogs. The
full range of Acana products are made with crude protein, crude fats, fibre and
added moisture.
Acana's tasty treats include our favorite, their organic bites. You can choose
from great flavors including; Grass-Fed Lamb, Yorkshire Pork, and Free-Run Duck,
which are all packed with fresh or raw flowers, vitamins, and minerals.
Canagan
Bespoke, healthy and natural is what you will find with Canagan. Over the years
they have won multiple awards including; the Queens Award for International
Trader and Supplier of the Year.

We recommend their grain-free biscuit bakes which come in a range of flavors,
including; game, salmon, and chicken. Their premium pet food is blended with
chickpeas, sweet potatoes, and herbs, and never with gluten-containing ingredients
or white potatoes.
Eden
This relatively new company started out in 2011, producing tasty, organic treats
for your pet's needs. They even have a Help & Advice desk for consumers who have
specific requirements for their animals.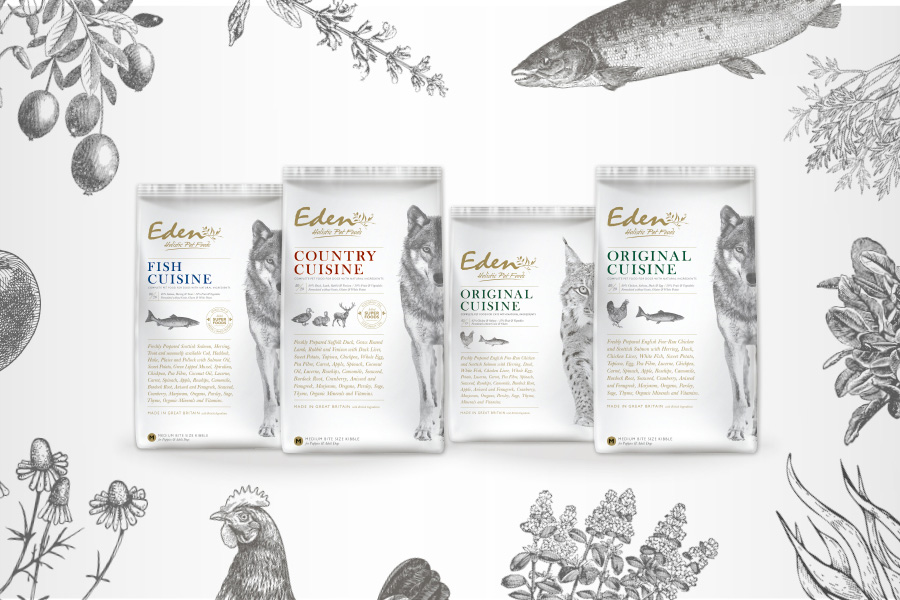 Eden produces food with added glucosamine, protein, crude oil and fibers, also
creating soft food for older dogs who need a smoother texture. We recommend
their stick treats, which are packed with an interesting selection of flavors; from
venison to salmon, and whitefish to duck. They also create dishes that are
specifically grain, gluten and white potato free.
Fish4Dogs
This company believes that fish is the answer to many of the health complaints of
dogs. They say obesity, poor health, and fatigue can all be remedied by increasing
your dog's Omega intake. Fish for Dogs creates organic, grain-free, zero additive
food made as an alternative for human snacks that some owners might feed their
dogs. Fish for Dogs models their premium pet food in the U.K. on human food and
creates healthy snacks such as; crunchers, strips, cookies, and twists.
From lower calorie options to comforting treats, Fish for Dogs have covered almost
everything. Their aim is to create tasty treats that are rich in Omega 3, gluten-free
and helps to keep pets healthy.
Next time you are deciding to buy premium pet food in Leeds, give us a call, or
check our availability online.